March 19, 2009 // 12:52 AM
Life is as beautiful as you. :)
Today is Thursday. Today has been a

wonderful

day. I've been dying to blog all day for some reason and saying 'i'm gonna blog that' to what everyone says and does.
First of all, yesterday i was suppose to blog about me saying for the first time ever i said somebody she liked actually suited her instead giving the poor boy a girly name. Aha, Nicole Richie and Andrewlina Jolie. :D Yes, just beautiful, eh?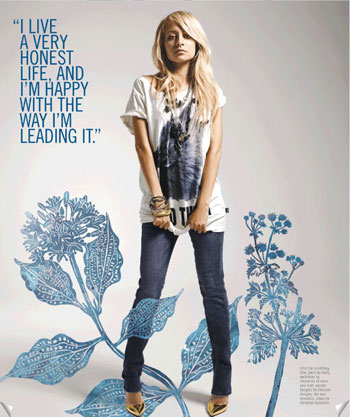 TODAY I WATCHED THE HURTING GAME, how funny. The girl thought she was fat when she wasn't and they read Cosmopolitan at the age of 12? What the hell?

YES, BINGE DRINKING IS TERRIBLY UNHEALTHY.

AHEM, AHEM.
YVY AND I MADE AN AMAZING DISCOVERY - IT'S PRETTY HARD TO EXPLAIN SO I'LL TAKE A PICTURE OF IT AND BLOG IT TOMORROW.
But even before school started i found out about Kitty's
secret
lover, she texted me and i didn't get it till the end of the day. When i got who she was saying i instantly called her saying, also for the first time, she made a good choice.
Oh shocker, shocker.
DURING THE PHONE CALL SHE AGREED TO DO MY PLAN, OH YES, YES. :)
This plan shall work and in 15 years time she'll be thanking me for helping her find her soul mate.
I FOUND OUT SYLVIAN IS CRUSHING ON SOMEONE, WOW!
AMAZING, i think i know who it is, he's alright (Brendon). LOL! How cute would they be together? Okay, i'm getting off topic now. The plan for tomorrow shall be
1.
Yell out at julie, 'I KNOW WHO HE IS!' *points at ...*
2.
*point at Kitty* 'YES, IT'S LOVE'. Won't my plan be wonderful? :)
Oh my dear lord, Kitty and I said that'd we become best buds and end up hugging by the end of the year our .. friends. Aharhar! Yes, and we won't even have to break the promise in the process! WOO! GENIUS. :D
On the matter of boys, today, i was walking home from buying lemonade for my mummy and this car drove past and honked at me. this guy waved at me ... he looked so familiar... just like... :O
Highlight of the day:
VIVIAN GOT A SIDE FRINGE. AHAHAHAHA! SO CUTE! AWESOME. NOW WE BOTH HAVE HAIR WE BOTH REALLY HATE. *HIFIVE!*
I'm sorry Sylvian and Michelle for not coming mac fields. I had some things to take care of.
:)
6 times!
Labels: discovery, mac fields, nicknames, Vivian